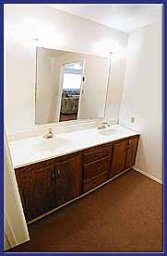 The Vanity Area
Unlike some other apartments, at Alta Student Apartments, you don't have to wait for your roomates to get out of the bathroom so you can brush your teeth, comb your hair, or just look in the mirror. Each apartment has it's own vanity area outside the bathroom.
Snow College Student Housing Apartments Ephraim, Utah
The Living Room
Each spacious living room comes furnished with a sofa and armchar. There's plenty of room for you and your roomates to do homework, or just relax and watch some TV.